If you missed the big announcement Monday, this year I am kicking off the new year with a fun series called Crazy New YOU! We are going to set our own goals for the new year, work together to cheer each other on and try to win prizes along the way! Sounds like fun right? Get all the starting details on the series here. Now we are going to delve a little deeper and start actually planning out our goals.
I have SO much packed into this post. Take what you need from it, pin it, come back, whatever works.
Goal Setting Tips:
Some of us are goal setters and some are not. I love setting goals and working to achieve them, making to do lists and crossing things off, and just in general trying to stretch myself to be better. My husband struggles in this area because he is too hard on himself and I know a lot of people are like that. Whether you are a natural goal setter or not, here are some tips to help you accomplish your goals and not beat yourself up when you fall short.
#1: Write them down! There is all kinds of research about actually writing your goals down. I think it helps you solidify in your mind what you are actually wanting to accomplish. So don't just think about what you want to do this year, write it down! (I have lovely free printable Goal Setting Worksheets for you below.)
#2: Give yourself specific tasks: Don't just say "I want to be healthier this year." Describe for yourself how you are going to do that. Are you going to exercise more? How much? Are you going to eat better? How? What will that look like? Lose 25 pounds. How will you make that happen? Make it very specific.
#3: Be realistic: The reason that people who achieve their goals actually achieve them is because they make their goals doable. If I am not exercising at all and then I tell myself that I am going to exercise 5 days a week for an hour, I am not likely to achieve it. It's too big of a jump. If I instead say I want to exercise 30 minutes a day, 3 days a week, I am much more likely to achieve this goal. If I am later ready to increase that, great! But don't go crazy in the beginning.
#4: Incentives: Is there some way you can give yourself an incentive for your goals? For example, if I clean out 3 closets today I get to watch 30 minutes of my favorite show, or whatever it is that works for you! I also recommend joining up with the Crazy New YOU program so that I can give you incentives too.
#5: Get support and be accountable: Tell someone what the goals you are working on are and have them help you be accountable and also cheer you on. Or if you don't have anyone, make yourself a list or a chart so that you can be accountable to yourself. Another reason you should join the Crazy New YOU challenge. You will have a whole team of people cheering you on!
Goal Setting Worksheet:
Here are some goal setting worksheets that you can print out and use to really lay out your goals for yourself. The first one is just a basic worksheet that can be used for any goal. Because many of you said you were setting goals in more than one track and that you liked the icons, I also added different goal worksheets for each of the 7 tracks that have little icons in the corner so you can do one for each area if you would like.
**Remember that once you fill these out you can add another entry to Monday's giveaway**
Goal Setting Worksheet Printable
Goal Worksheet: Financial Track
One Word Goals:
One of the sort of trendy things to do these days is to set a "one word" goal for the new year. Pick one word that is going to be the theme of your year and try to live by it. For example, perseverance, respect, success, action, achieve, love, family, there are so many possibilities! Because I know that some people love to do goals this way, I also have a One Word Goal Setting Sheet for you:
One Word Goal Setting Worksheet
Goal Tracking Chart:
For some goals it might also help for you to have somewhere that you can track how well you are doing. Here is a free printable goal tracking chart:
Goal Setting Resources:
As you set your goals for 2015, here are some things that I thought might help. I don't have resources in every category because some things come from your own heart or mind, but here are some things that I thought might help in each category. (There are affiliate links below.)
Heart Track:
Birthdays: Remembering others birthdays can make the year a lot of fun. Here are some easy birthday ideas you can use when birthdays come around:
Or some free printable tags and cards that you can have ready:
Home Track:
Get Organized: There are so many resources in this area and it depends on what you are wanting to organize!
I also LOVE these planners that you can get at Erin Condren:
Here is a great set of planners-menu, daily life or blog:
There are so many nice things you can get to get your home organized too like this or this or this. Or tons more things depending on your needs!
Cooking: If you are wanting to try new meals or cook more often, I recommend Pinterest. It's such an easy way to gather recipe ideas. I have a board called New Dinner Recipe Ideas where I pin meals that look good to me!
Body Track:
Apps: There are some wonderful apps out there to help you get fit, eat healthy and in general feel better about yourself. Here are a few great ones:
Map My Run, Map My Ride, Map My Walk (These will track your distance, time, calories burned when running, biking or walking)
My Plate (Tracks your calories)
Runtastic (There are many versions of this. Choose an exercise you want to do and it will help you train.)
Full Fitness (Recommends exercises based on what you want to work on)
Fit Bit: I bet a lot of you got these for Christmas. This thing will keep track of all sorts of fitness and health things for you: Fit Bit
Fitness Blender: This is my personal favorite! This site is full of free workouts of all varieties that you can do from your own home. I do these almost every day. They have everything from pilates and yoga to HIIT cardio and strength training and they have all levels and lengths. They also have meal plans and tips. I love this site so much!
Financial Track:
Budgeting: If you need help getting smart with your money and budgeting and saving, I have heard that this book and his principles are very helpful: The Total Money Makeover
Here are some helpful budgeting sheets from Mique over at Thirty Handmade Days:
There are also apps that can help you track your finances like Mint Personal Finance.
Life Track:
I think you are kind of on your own in this track. Think about what you want to improve, think about what that would look like and act on it. There aren't a lot of programs or books or classes that can help you here! But you can do it!
Skill Track:
There are so many possibilities of new things to learn! Here are a few resources and suggestions to get you started:
Learn to Sew: This is of course a favorite of mine because I have a Learn to Sew series on my blog. The series ran two years ago, but the tutorials and projects are still available and can be done any time. There are weekly lessons and projects, so this could line up perfectly as your new goal for Crazy New YOU if you are brand new to sewing. Get the tutorials here:
Done with that one? Try the Learn to Sew eBook for further learning:
Also, Craftsy offers many classes on sewing. If you need to brush up your skills in a certain area like zippers or clothing, Craftsy is the place for you! You purchase the online classes and then watch them whenever you want! They have 92 sewing classes! Check them out for sure!
Photography: I know lots of people are always wanting to learn photography, brush up their photography, or learn new photography skills. This would be a really fun goal for the new year and there are SO many resources in this area! Here are some to get you started:
First of all, if you have Christmas money leftover or have always wanted a DSLR camera, it will be a great way to kick off your photography lessons and skills. You have so much more power with a fancy camera like this one:
You can take online photography classes that will teach you a ton from the comfort of your own home! Look at all of the options from Shoot Fly Shoot! You can learn things like how to use your DSLR camera, how to use photoshop, camera settings, getting artsy, taking portraits and tons of things! I think I might do some classes from Shoot Fly Shoot myself this year!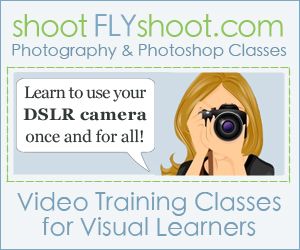 Other good resources for learning to take good pictures:
Start a Blog: Many of you mentioned that you have wanted to start a blog. Blogging is a ton of fun! I want to help you out if that is your goal. I have a free eBook that I am working on and hope to release soon about blogging, but for now, start with this post on How to Blog Professionally:
Cooking, baking, cake decorating:
Again, Craftsy offers some great classes in these areas!
Cooking: Everything from bread making, str frying and pasta to cooking basics if you need a beginner course!
Baking: Macaroons, french pastries, 10 classic desserts, the list could go on and on! Seriously if you need some help with cooking or baking, there are so many great options!
Cake Decorating: Tons of options here too-from fondant to cupcakes, buttercream and bows and even how to start your own cake business!
Crocheting, Knitting, Jewelry Making, Paper Crafts: Bet you can guess what I am going to say here? Again, turn to Craftsy for classes in all of these areas.
Learn a Language: Here's a fun way to learn a language from home! Try one of these apps for your phone!

Mind Track:
Take a Class: Check your local parks and rec centers, community colleges and surrounding community for classes in the area you are looking to improve and learn.
Learn a Language: Here's a fun way to learn a language from home! Try one of these apps for your phone!
Reading: Looking to read more? I recommend signing up for Goodreads to find great ideas of books to read. You can even set goals on their site about the number of books you want to read in a year. It then tracks your goal for you.
Also, here is a list of some of my all time favorite books:
These are of course just ideas for you! Do what works for you! If you have ideas of other resources be sure to leave a comment telling me and the other readers!
Make sure to check out all the details on Crazy New YOU! here: