Who's ready for some Halloween celebrating? You know I am! I love Halloween crafting more than anything, so these Monster Mash Party Ideas were tons of fun to create!
This is part of the Cricut Design Space Star and I used my Cricut Machine to make almost all aspects of this party.
And boy did I have fun! The more that I use this machine the more I fall in love with it! It is so easy to use and cuts so nicely!
Want to see my party ideas? Let's do it!
Monster Mash Party Ideas:
Invitations:
Here are the invitations I used for the party:
Supplies Needed:
Card Stock
Googly Eyes
Glue
Instructions:
I cut these invitations using my Cricut Explore Machine. Here is a template that you can use to cut yours as well. Right click and save this, then upload it into your Cricut Design Space and size it how you want it. If you are not using a Cricut to cut it, right click and save and then print it and use it as a cutting template.
I added googly eyes and glued them in place. Then I used this Monster Mash Party Invite Template. Again, right click and save. Then open it in a photo editing program on your computer or on Pic Monkey to add your own text:
Monster Garland:
One of my favorite parts of the party was the decorative Monster Garland that I made!
Supplies Needed:
Card Stock or Scrap Book Paper
Baker's Twine or String
Tape and Glue Stick
Silver Paper or Card Stock or Sticker Paper
Instructions:
I also made this using my Cricut. I cut out circles using the Cricut. I have those loaded and ready for you in the Cricut Design Space if you have access to that. Get my template here. You will need to be logged in to your Cricut Design Space in order to access that.
If you are cutting them on your own, cut circles that are about 4 inches in diameter. Cut two circles for each spot you want in the garland. Then I used some baker's twine to string them all together. I taped the twine to one circle, put glue on another and stuck them together:
To add the monsters I used a silver sticker paper (but you can use whatever works for you) and cut out silhouettes of the monsters.
Decorative Toppers:
Next I made cute little toppers that I stuck on a straw.
You can either print these and cut them out by hand, or use Cricut's new print and cut feature to let the Cricut do the cutting for you!
Here's the images so that you can use them:
Template with Multiple Boo's to Print: Boo Tags
Template with Multiple Monster Tags to Print: Monster Tags
Or right click and save:
Monster Stickers:
Or you can use these (above) as stickers! I used Cricut's Sticker Paper to print these and stick them on cute little party favors:
Cupcake Toppers:
To make these I simply cut the silhouette of my monsters and added googly eyes then added them to one of my decorative straws (cut in half).
Easy but cute!
Here is an image you can use as a template in the Cricut Design Space to cut these:
Monster Party Favors:

Supplies Needed:
12 x 12 Card Stock
Google Eyes
Glue
Instructions:
To make these I cut this treat box: Template.
Then simply add googly eyes and teeth (want some teeth? I have those too-here)
Fill them with candy!
Monster Cookies:
Supplies Needed:
Round Sugar Cookies
Frosting
Eyes (I found these in the baking section at Target)
Simply frost the cookie, then add some extra frosting to a sandwich bag and snip off the corner. Messily pipe the frosting on and then press the eyes in:
See more fun Halloween Celebration Ideas using your Cricut Machine!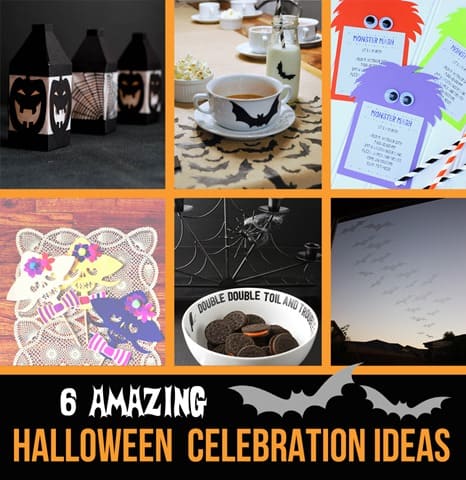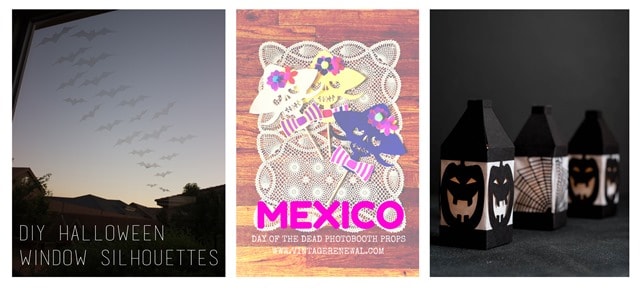 Over the Big Moon | Vintage Renewal | This Heart of Mine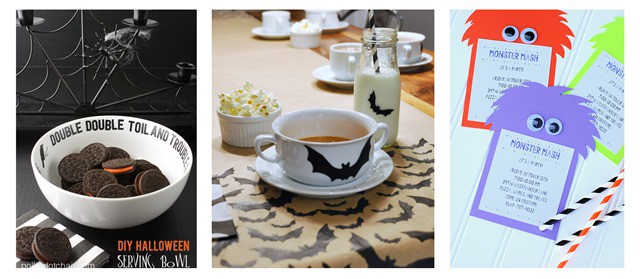 The Polka Dot Chair | Dolen Diaries | Crazy Little Projects
Also-check this out!
Cricut has just announced the second phase of the Cricut – I Made It! contest and this time they're awarding one winner their own Make it Now™ project line to be sold in Cricut Design Space™!
To help create your line, Cricut will fly you to their headquarters in Salt Lake City to work side-by-side with their design team. Then you and a guest will enjoy an all-expense paid stay at the Grand America Hotel – a luxury resort in Salt Lake City, home to the best skiing in the world.
The winner will be featured on Cricut.com and every time a Cricut user purchases your project, you'll earn money. Cricut will even help with your publicity.
To enter the Cricut – I Made It! contest, all you need is a photo of an original project. You can upload up to five photos (which can be five individual projects or multiple photos of one project).
You have until September 30th to enter. What are you waiting for? It's time you Made It big! Head to cricut.com to enter today.