Well, the sad day has come, and for us Back to School has happened. I guess I can console myself with the thought that with 3 out of 4 in school and the little guy doing preschool I will have more time for projects! For my first afternoon with the kids at school I sewed up one more back to school project. I've got a major thing for school supplies, so this was fun. It's a pencil case tutorial that fits all your pencils, pens and even scissors or other supplies. I even got to try out a new friend on this project too, my new Cricut Explore.
It's a pretty quick project and it's one of the easiest ways to sew a zipper, so if zippers scare you, try this!
And you can make it in any fun fabrics of course-so it's great for boys or girls:
I mentioned that I got to play with my new Cricut machine for this post. I am joining up with Cricut for the next few months to have a little fun as they challenge bloggers to create projects for the Cricut Design Space Star Challenge:
This month's challenge is to create a project that is fashion or gear related. My team of bloggers (Team #15), chose the theme Designer Inspired. Not an easy theme for me. I don't do a lot of knock off designs, so this took a little (a lot) of brainstorming on my part.
I found this darling pencil bag that I adored at Garnet Hill Kids:
And knew I cold make that. And honestly, once I got the hang of it, I could probably make one of these in under 15 minutes and for only a couple of dollars! Not bad right?
I will also share with you some tips and tricks I have learned about using a cutting machine like a Cricut to cut fabric and sew on that fabric.
Here's how I did it.
Pencil Case Tutorial:
Supplies Needed:
1/4 yard each of 2 coordinating fabrics
9 inch zipper
Cricut Explore (optional way to cut your fabric or personalize your bag)
See below for tips on cutting fabric with your Cricut Machine
Instructions:
Cut your fabric into rectangles that are 9.5″ x 5.5." You will need 2 from each fabric:
A Cricut Explore can cut fabric, so it's handy way to make a project like this. The advantage of using a machine to cut the fabric is that you can cut a perfect rectangle without having to worry about straight lines or squared up corners. I simply created two rectangles in the size I needed in the Cricut Design Space and let the machine do the cutting:
Once your fabric is get, get your zipper ready. Place 1 piece of your inner fabric in front of you and lay the zipper on it with the top of the zipper facing up:
Then place 1 piece of your outer fabric on top of that with the right side down. Pin along the zipper:
Stitch along that zipper edge. When you get close to where the zipper pull is, stop sewing, knot your thread and move the zipper pull out of your way by unzipping it. Then continue sewing to the end.
It should look like this now:
Now you need to do the same thing on the other side of the zipper. You can see that I have my inner piece below the zipper and then I will add my outer piece on top but facing down:
Sew again along the zipper (but on the other side this time).
Now take your fabric and lay it so that the right sides of the main fabric are touching and the inner fabric is sandwiching it (with right sides out):
Sew along the long, raw edge at the bottom of this:
Then fold it so that the zipper is in the center: (make sure your layers inside are laying smooth and not on top of each other)
Unzip the zipper halfway. Sew each of the short ends. You will sew through the ends of the zipper. Just make sure that it is pulled together as you sew through it.
Now you are going to do box corners. To do this, grab one of your four corners and pinch it to form a triangle with the raw seam going right down the center of your triangle. Sew along the tip of this and then snip off the end:
Do this on all 4 corners, making sure that you keep them each even.
Pull it all right side out and you've got a fun little pencil bag!
Tips for Cutting (& Sewing With) Fabric on a Cricut Machine:
One of the things that I love most about a cutting machine like the new Cricut Explore is the ability to cut fabric! It can save time, make cuts more precise and it's just plain fun!
I am going to share some tips and tricks I have tested and learned about cutting fabric with a cutting machine as well as sewing with that fabric. But first, why cut fabric with a cutting machine?
Reasons to Cut Fabric with a Cutting Machine:
If you want to cut out shapes, this is a very good way to do it because the machine does all of the hard work for you. You don't have to figure out if something is symmetrical or even or anything else. You program the design and let the machine do the rest.
For precision and straight lines a machine works great. My machine isn't going to cut a crooked rectangle like my scissors or even rotary cutter are prone to doing.
Speed-if you need to cut a lot of the same thing, this will save you time.
Tips for Cutting Your Fabric:
You need to use a paper backed adhesive like Heat n Bond that is ironed on to your fabric in order to cut it. I tested a cut without the Heat n Bond on it and the fabric wadded up in the machine.
When using Heat n Bond (or similar products), use the lightweight version like Heat n Bond Lite.
Do NOT remove the paper backing before cutting. I tested this for you. It doesn't work. Trust me on that one.
You will get a cleaner cut if you cut with the paper backing facing up and the fabric touching the cutting mat:
I also tested the dial settings and found that I could drop them even a half a step lower than the fabric setting and still get a good cut on fabric. Even this still left an imprint in the mat. This was with lightweight fabric.
Cricut recommends a Strong Grip Mat for cutting. I have only tested the Standard Grip and it works well.
When cutting thicker fabric like canvas or leather, etc. use the multi cut option to be sure it cuts all the way through.
Tips for Sewing Fabric Cut from a Cricut:
Because the fabric you cut has the adhesive backing on it, sewing might be just a little different. If you run into any problems, try this:
If the side of the fabric that has Heat n Bond on it is coming into contact with the feed dogs on your machine, it may stick and make it hard to sew. To fix this, place a piece of lightweight paper or freezer paper between the fabric and the feed dogs and sew. Then rip the paper off after you sew.
Try using a need lubricant if the needle gets stuck at all while sewing.
Be sure the use Lite Heat n Bond on your project. This should allow you to be able to sew through it.
Want to have even more fun with your Cricut? Personalize this project! I love adding heat transfer vinyl to my projects and it's very easy to do! Full details on how to add the personalization here:
As part of this Design Star Program I am on a team of bloggers. We work together to pick a theme and create projects that compliment each others'. Check out what my team did this month: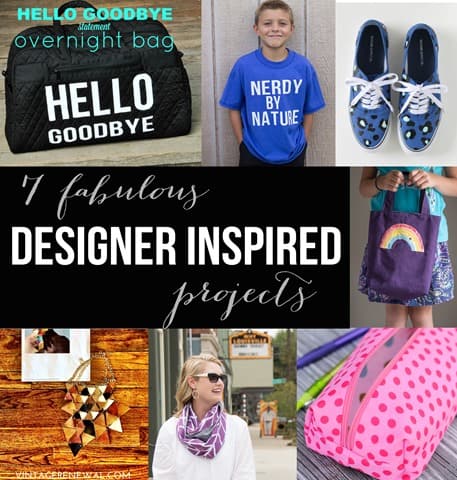 Pam and Lisa from Over the big Moon – Knock off Graphic Tees
Shelly from the Dolen Diaries – Hello Goodbye Statement Overnight Bag
Amber from Crazy Little Projects – Pencil Case Tutorial
Melissa from The Polka Dot Chair – Custom Printed Fabric Infinity Scarf
Amy from This Heart of Mine – Appliqué Children Totes
Jeanne from Vintage Renewal – Layered Leather Geometric Necklace
Ann Marie from White House Black Shutters – Kate Spade Inspired Cheetah Shoes
Get the full lowdown on the new Cricut Explore and all of the material that it can cut (you'll be surprised!) as well as the types of projects you can do!